The Tannery Christmas Market
Thursday 10th December 2020, 10am - 9pm
More details coming soon!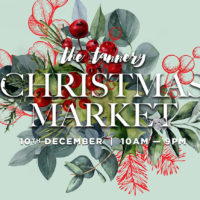 The Atrium
Sleep Fighters Club
Yho Design
Traditionally Tuscan
Neve Candles
The Barkery Brothers
Handcrafted by Hannah
Korukai Herb Farm
Birds will Fly
Jackelope Treasures
The Gingerbread Co
Ruby and Bear
ZippityDooDah
The Baughmans Bees
Sweets Ltd
Emma Timmis Illustrations
Casa Color
Flora and Fabric
Bee Stitching
The Annex
Little Dot
Recipes in a Jar
Willou
Earthlove Ltd
Lisa Rudman Creative
Christmas Jumpers NZ
Lola and Alice
Pepin
Kiwi Bee Collective
Pretty Fly
Elyse Creation
Le Ferrier
Twee and Co
Shapes by Sal
Windswept Jewellery
The Knife Boutique
Safter Hot and Spicy
Met Lounge
Live Music & Entertainment
FOR THE KIDS
10-1pm Free face painting and balloons
LIVE MUSIC
11.30 – 1.30: Alice Tanner w/ Mahlon
3.30 – 5.30: Georgie Clifford Duo (nearly confirmed)
6pm – 7.30: The Mike Bickers Boptet
Retailer deals on Market Day
Encompass
30% to 50% off selected stock.
HAPA
Instore SALE table with up to 90% off most items.
Friendly Fantail makes a beautiful Organic Turmeric Latte mix available at HAPA. They will be offering free tasting to Tannery shoppers 11-2 on Market Day.
Fashion Society
Further 20 % off sale storewide
Smiths Bookshop
Specials table!
Katerina
10% off storewide
Bombo
Up to $100 off bed linen.
Food for Thought
50% off your first refills . T & C's apply.
Deluxe
Get a free $10 food and drink voucher with any gift voucher purchase over $50.

Little Folk
Wishbone 3-in-1 bike, 20% off.
Up to 70% off last season's stock.

Fabric House
20% Off All Christmas Stock
10% Off Everything Else In Store
Bolt of Cloth
10% off everything in store, all day.

Fascino Shoes
Spend 200 get $50 off, spend $350 get $75 off, spend $400 get $100 off
Mrs Bottomleys Flowers
Pop in on Market Day to chat about your festive floral requirements.
We'll have a wonderful selection of flowers & plants including small Norfolk Pine Christmas Trees.
Grassroots Yoga and Health
Spend $50 or more and get a free drop in class (valued at $22).
WearElse
$10-$20 rack specials.
Bellbird Bakery
Free mini Danish with purchases over $10 at the bakery until stocks last.
Long Way Home
20% off all Citta bedding
Morgan and Page
All purchases over $50 will receive 20% off.
Cosi Fan Tutte
20% off all rugs & cushions.
Plus the chance for our lovely customers the chance to enter an amazing GIVEAWAY.
The Fabric Store
15% off all full priced fabric and leather for the day!

The Filing Kabinett
LOTS of new stock
Free jewellery cleaning cloth with every sale
Free ring cleaning and claw checking
Studio Bibi
Purchase a Personal Shopping Experience at 10% off and receive a FREE $50 Studio Bibi Gift Voucher to give to a loved one as a stocking stuffer or redeem for yourself!
There will be pressure on our Tannery customer car park on Market Day so we encourage you to use our overflow parking on Rutherford St.