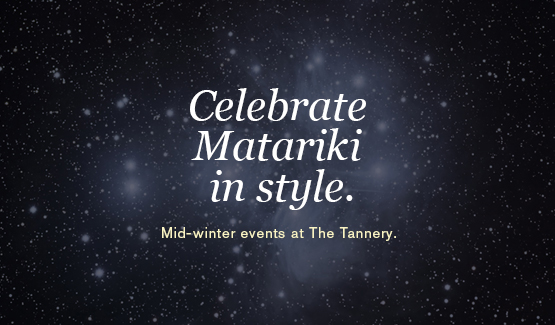 ---
Matariki, the Maori name for the star cluster Pleiades, is a significant time in Aotearoa, marking the start of the traditional Maori New Year, first observed by the rise of Matariki in the last few days of May each year and the New Year confirmed as the first new Moon is sighted in June. Bright stars are considered to be a sign of a warmth and as a good harvest and resulting prosperity. Matariki is also an important time for families to reflect of those past and on future success.
Mid Winter Functions
Take the opportunity to celebrate your New Zealand "Thanks Giving" with family, friends or colleagues at The Tannery. With venues and menu options available for groups from 10 to 500, Matariki is a great time to acknowledge those important to us and celebrate future opportunities. If you are planning a mid-winter dinner, winter function or celebration, The Tannery is perfect for your event.
Events in the Atrium suitable from 80 sit down, to 600 cocktail
Private Dining at the AGA kitchen, 50 sit down, to 80 cocktail
Exclusive booking at Blue Smoke, including a band.
Download AGA Kitchen Winter Menu
Please call today on 0800-4-TANNERY or email Jenna now for your Mid Winter or Matariki Function quote.