The Tannery Spring Market
Saturday 1st September, 10am - 5pm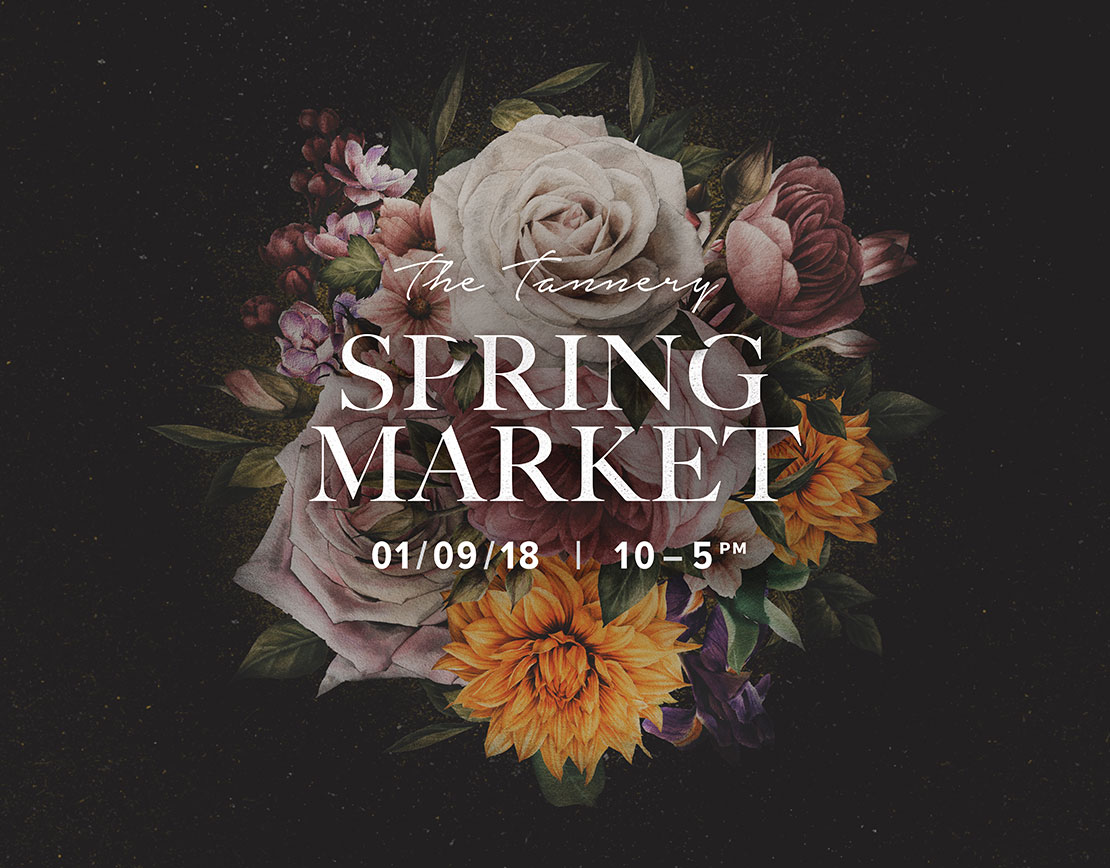 Food
Fuel up on some good eats from your favourite food vendors:
The Brewery
Penny Black
She Universe
Mitchelli's Cafe Rinato
The Tanner Street Bakery
Blue Smoke
AGA Kitchen
Kung Fu Dumplings
Fritzs Wieners
Pita Pit
Kettle Korn NZ
Indian Express
Craft & design
Crafts and Designers joining us for the day:
Sarah Geary Ceramics
Gemini Project
Happy Chappies
Zippity Doo Dah
Hibiscus Reloved
Annie Brown Handmade
Bee Stitching
Prints by Benny Magon
House on the Hill Design Company
Lorna Jane
Live Music & Entertainment
Caleb Isaac (buskers style set) in The Tannery Atrium from 11am – 2pm
(Please note Caleb Issac replaces Brendan Gregg as shown in some advertising. )
Mukhlisa at The Spring Market Day in Blue Smoke from 4pm.
Free face painting for the kids 1-3pm in the atrium.
Recycle Boutique
In store draws to win Recycle Boutique vouchers!
Little Folk
Sale table with up to 50% off selected brands including Nature Baby, Rylee & Cru, Hubble and Duke. Little Folk will also have 20% off store-wide on Market Day.
Teepee
Market Day sale tables in store!
Uncommon Ground
Take another 30% off already heavily reduced items from COOP, Stolen, Federation, Staple and Cloth etc…plus 15% off on selected boots and accessories.
The Filing Kabinett
Free clean and check of up to two jewellery items per customer.
Fabric House
In time for spring…10% off all picnic rugs, recycled throws and selected cushions for Market Day. Baskets of short ends and remnants from only $10 per meter.
Mrs Bottomley's Flowers
Mrs Bottomley's will have 'Market Special' posies and bunches for sale
Tanner St Bakery
Details coming soon!
Deval
Details coming soon!
The Flock
Discounted Elk & Kowtow clothing, Elk footwear, Saltwater Sandals, Triumph & Disaster sunblock, Elk 100% Cashmere Jumpers less 20% and much more on the day @ The Flock.
The Apothecary
10% off Mindfulness journals, Spring Tonic, Summer Tonic, Lip Balms, Kawakawa Cream, Tonic Vinegars, Collagen Powder, Ethique Bars.
20% off Marlena Oils, Sandersons Vision FX Natural Sunscreen. Plus tea tasting and more…
Penny Black
Offering 'Husband Parking' for Market Day. Bottomless tea/coffee for gents who wish to relax whilst their partners shop.
EnCompass
Sale rack out front with '50% off selected winter stock'.
Morgan and Page
Details coming soon!
Bolt of Cloth
10-70% off instore for one day only!
HAPA
Sale table with items 50-80% off!
She Universe
Father's Day Hot Chocolate mugs and specials on winter truffles.
Grassroots Yoga and Health
Enter the competition at Grassroots studio to win a five class pass.
Alchemy Pop-Up (atrium)
The World Famous (in Woolston) bi-annual sample sale at the Alchemy Equipment Pop Up store in the Atrium. As usual, samples are cash only and priced to sell, so BE QUICK!
Morgan and Page
Two clothing racks priced from $29-$69. Up to 70% off plus selected jewellery, handbags and scarf specials.
Cassels and Sons Brewing Co.
Details coming soon!
The Fabric Store
Details coming soon!
WearElse
Sales racks with clothing priced at $10-$20!
Katerina Boutique
Sales racks in store with plenty of bargains to be had!
Cosi Fan Tutte
In store specials including up to 30% off selected knitwear and wool coats. Every purchase of $50 or more goes in the draw to win a $150 Cosi Fan Tutte voucher.
Fascino Shoes
40% off all winter stock!
Smiths Bookshop
Specials table in the atrium.
There will be pressure on our Tannery customer car park on Market Day so we encourage you to use our overflow parking on Rutherford St.