The Tannery Autumn Market
Saturday 20th March, 10am - 5pm
Get ready to embrace autumn with The Tannery Autumn Market on Saturday 20th March from 10-5pm. Packed full of the sale tables and store specials you've come to love. Your favourite local craftspeople and designers, live music in the atrium all day and tasty food offerings.
We have some of the best local talented craft and design stall holders joining us for the day…you're favourites are back plus some new additions!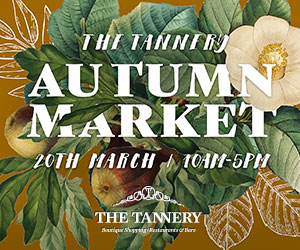 Food
Fuel up on some good eats from your favourite food vendors:
The Brewery Bar and Restaurant
Penny Black Victorian Tea Room
Lala Land
Mitchelli's Cafe Rinato
Bellbird Bakery
Dumpling Corner
Nori Table
Food for Thought
Craft & design
Crafts and Designers joining us for the day:
Neve Candles
YHO design
Handcrafted by Hannah
Jackelope Treasures
Birds will Fly
Zippity DooDah
Sweets Ltd
The Baughmans Bees
Earthlove Ltd
Pepin
Kiwi Bee Collective
Twee and Co
LE FERRIER
Food for Thought
Munns the Man's Store
Live Music & Entertainment
Ryan Ferris: 11-2pm
The Porters: 3-5pm
Fabric House
Sale Table plus 10% off ALL FABRICS
Penny Black Victorian Tearoom
A Spicy Autumn $10 combo! – Spicy Chai Latte + 1 muffin of your choice for $10.
Food for Thought
A range of discounted items available in Food for Thought's Pop-Up store in the Atrium on Market Day.
Uncommon
Take an extra 20% off sale items for Market Day.
The Fabric Store
15% off all full priced fabric and leather!
Munns the Mans Store
March stock take sale continues with 30-50% off everything instore.
Market Day sale table and 50% off clearance rack.
WearElse
$10-$20 sale rack.
Alchemy Equipment
Autumn Sale on instore.
Bolt of Cloth
Cushion covers from $20.
Fabric from $10/m.
In store deals such as half price S'well bottles.
Morgan and Page
20% off everything in store to celebrate our 20th birthday!
Plus sign up to our newsletter and go in the drawer to win one of many wonderful prizes drawn on Monday 22nd March.
Cosi Fan Tutte
Clothing – by Banana Blue, Beau Jours, Widdess and others will be reduced by up to 40%.
Adonis Rugs will be discounted substantially – $769 down to $499.
Ilse Jacobsen Jandals reduced from $69 to $49.
A range of felted scarves by Agnes Foss on sale on Market Day.
Fashion Society
A further 20% off red dot specials and heaps of new styles added.
IB Fashion and Bridal
Trolley with Market Day specials on trim, buttons, designer fabric remnants,. Barrel of designer fabric off the roll. All items heavily discounted.
Katerina Boutique
Clearance items prices start from $15.
50% off all jewellery.
Clearance shoes all $49.
Fascino Shoes
30-50% off summer stock. Market Day weekend special – 50% off all handbags.
Mrs Bottomley's Flowers
Autumn Market specials in store. Mrs Bottomley's will have a stellar selection of fresh flowers, everlasting flowers and indoor plants.
HAPA
Sale table with up to most 90% off most items.
Little Folk
Up to 50% off summer clothing from Nature Baby and 60% off Nature Baby bedding.
30% off Wishbone bikes and wagons.
Flooring Frontier
STOCK SALE is on! We are selling a heap of our off-cuts including carpet, timber and vinyl as well as flooring tools and accessories. All products are marked at amazing prices. To check out our range you can head to our Facebook page or you can find our website below. Happy shopping!
There will be pressure on our Tannery customer car park on Market Day so we encourage you to use our overflow parking on Rutherford St.