Hōtoke Winter Market at The Tannery
Saturday 30th April, 10am - 5pm
It's back! After the disruptions of COVID we are so excited to be bringing you The Winter Hōtoke Market on Saturday 30th April.
Expect to see everything you love about a Tannery market. Enjoy great eats and live music. Score store specials. Discover talented artisans. Shop local handmade products, unique crafts and treasures.
We have live music in the atrium on Saturday 30 April. Amber Carly Williams will get the Market underway, performing from 10am, then while-away the afternoon hours perusing the shops and listening to The Porter Duo.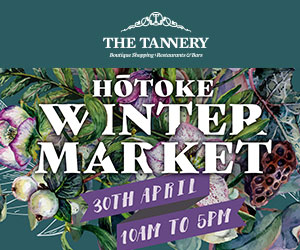 Food
Fuel up on some good eats from your favourite food vendors:
The Brewery Bar and Restaurant
Penny Black Victorian Tea Room
Lala Land
Mitchelli's Cafe Rinato
Bellbird Bakery
Dumpling Corner
Nori Table
Food for Thought
Craft & design
Crafts and Designers joining us for the day:
Jackelope Treasures
Willou Ltd
Sleepfighters Club
Ruby and Bear
Yho Design
Twee and Co
Neve Home Fragrances
Emma Timmis Illustrations
Joyces Crochet Room
Fio Art
The Barkery Brothers
Sweet Ltd
The Knife Boutique NZ
Jepra Crafts
ZippityDooDah
Live Music & Entertainment
Amber Carly Williams – from 10am
The Porter Duo – from 2pm
WearElse
$10 sale rack.
Bolt of Cloth
Lots of deals! Everything Under $20 and Everything Under $50 Tables, Cushions for $10, Cushions for $40…..
Morgan and Page
15% off for market day only. Not valid on already discounted stock.
The Apothecary
Winter Tonic/Gone Viral/Survivor Immunity/Immune Tonic – 10% off all winter tonics.
Uncommon
An extra 20% off our sale section in store + online.
Deluxe Cinema
A limited edition, birthday celebration, discounted 5 trip pass.
Fabric House
20% off wool throws.
10% off everything else in store.
Bellbird Bakery
One free mini croissant with every purchase.
Alchemy Equipment
Autumn sale – final weekend.
Mrs Bottomley's Flowers
You'll find within our shop a beautiful selection of seasonal blooms and an extensive variety of indoor plants – perfect for Mother's Day.
Katerina Boutique
15% off store wide – includes sale items.
HAPA
Sale table with up to most 90% off most items.
Fresca Mediterranean at the Tannery
10% off all normal priced provisions (excluding wine and beer). Sale table with 20% discount.
The Fabric Store
15% off full-priced fabric and leather.
There will be pressure on our Tannery customer car park on Market Day so we encourage you to use our overflow parking on Rutherford St.