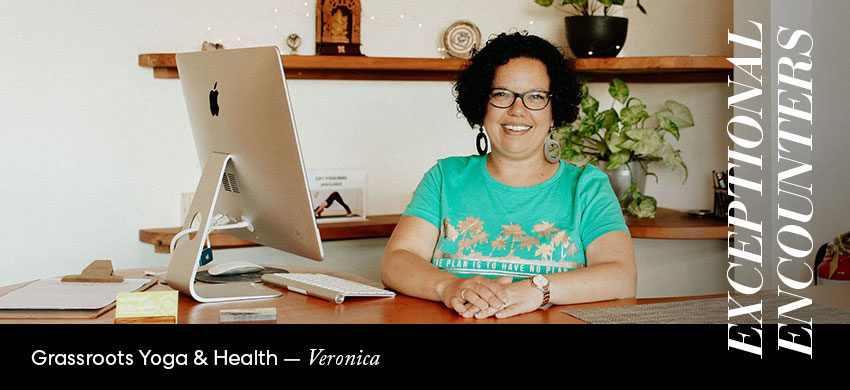 ---
— How long has your business called The Tannery home?
Grassroots Yoga & Health opened at The Tannery in August 2013.
— What attracted you to The Tannery in at the start and now that you're established here, what are the parts you really like?
I love the beautiful architecture of the Tannery; it's a very special place in Christchurch. It's always reminded me of my favourite Melbourne Arcades. Now what I love is the community – there are so many great people and businesses in the one spot. Also love the easy car parking! And it's now home to the yummiest sushi in Christchurch, Nori Table.
— Tell us about your business.
Grassroots Yoga & Health is a yoga studio that holds community and spiritual teachings of yoga at the heart of what we do. Now, more than ever, the world needs yoga! A practice with managing stress and uncertainty, We have a team of teachers who are all unique, yet aligned in the core instructions, so there is continuity across classes. We offer diversity of classes so you can choose whether you want an active dynamic class or a very relaxing class. We love big events and regularly run training with guest teachers from NZ and globally.
— What is your background?
Yoga and meditation have been the great passion in my life. A long time student of yoga, I arrived at Grassroots with a work background in travel and tourism. I began my yoga teaching career at Grassroots when it first opened. I was so excited and nervous! When my teacher, friend and previous owner was leaving for Wellington, I couldn't bear the thought of my yoga home changing, so I bought it along with Cara Butler and we ran it together for three years. As of September 2019 I became the sole owner of Grassroots Yoga & Health.
— Being a Christchurch business, you've weathered the 2010 and 2011 earthquakes. What changes did you need to make to your business as a result of these earthquakes and what did lesson did you learn that are now helping you steer your business through the COVID-19 environment?
The business was established after the Earthquakes, although many of us had been sharing yoga together for many years before the quakes. Our city really needed yoga after the stress and uncertainty and this feels very much like those times.
— What diversifications and changes are you implementing during Alert Level 4 lockdown?
We have moved to a virtual studio, online classes and Zoom. It's been lots of work but wonderful to stay connected with our people and for long time students all over the world joining in. The first time seeing everyone again and all doing yoga together was really special. Since we don't know really how long before we can be back together, we are programming 1-2 weeks at a time for our virtual studio.
— When you're not focusing on your business, how are you keeping entertained during lockdown?
I'm blessed in my bubble! I live in New Brighton so I take daily walks on the beach and through beautiful Rawhiti Domain. I'm catching up on bookkeeping and working my way through some fantastic books.
— What's the first thing you'll do when the lockdown is over?
I can't wait to see all the people that I have been missing, my friends, the Grassroots Yoga team, our students and all the wonderful folks at The Tannery.