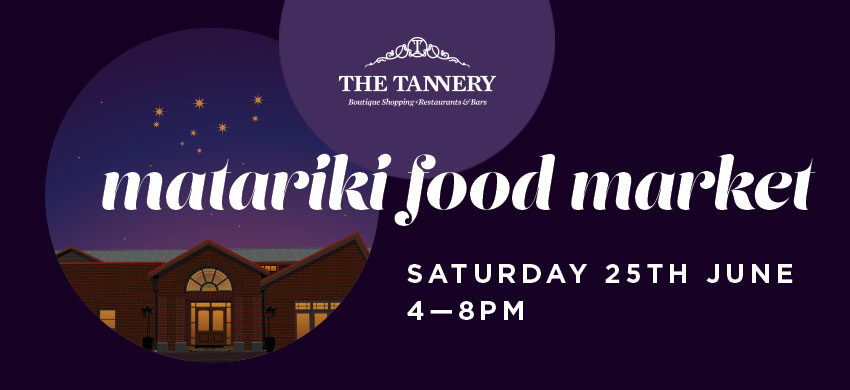 ---
Saturday 25th June, 4-8pm
2022 is the first year Aotearoa comes together to celebrate Matariki as an official public holiday. Matariki, or Māori New Year, is a time to gather together with friends and whānau to reflect, celebrate and plan for the future.
Here at The Tannery, our retailers have come together to create a special celebration to mark this important date. On Saturday 25th June we will be hosting Tirama Mai, from 4-8pm.
Our Atrium retailers will open late and from 4pm, and a collection of popular Christchurch food trucks will take up residence outside the atrium, serving:
Mouth watering slow-cooked meat, perfectly paired with tasty sauces from Smoke n Barrel.
Asian-inspired Kiwi classics from The Vagabonds Chefs and orient-encrusted, crisped and spiced or slow, smooth, and distinctly Southern. The Vagabond Chefs are all about big-world flavours.
Homemade popcorn from Kettle Korn, stirred by hand with attitude while infusing deserving ingredients & an unmeasured scoop of love! Choose from up to eight allergen free, vegan friendly decadent offerings including refined sugar free options.
Fresh Burritos, Tacos, Nachos and Quesadillas with handmade flour Tortillas from locally sources fresh ingredients.
The best burgers in town, from The Burger Joint
Freshly baked waffles from Black Forrest Waffle Hut.
The Atrium will transform into a communal banqueting hall where you can gather with food and beverages to celebrate the Māori New Year with your community, under the majestic fairy lights of the atrium.
The event will commence with a Karakia at 4pm (Morgan Kahika) followed by a performance from Te Pa O Rakaihautu and Te Waka Unua. To mark Tirama Mai we will be lighting up the Atrium with a moving star gobo display. Live music will carry you through the evening, and a bar in the Atrium will be serving beer and wine.
We invite you all to enjoy a smorgasbord of foods and flavours, entertainment from local community groups and the warm welcome of The Tannery whānau as we connect with locals and visitors at this special time.