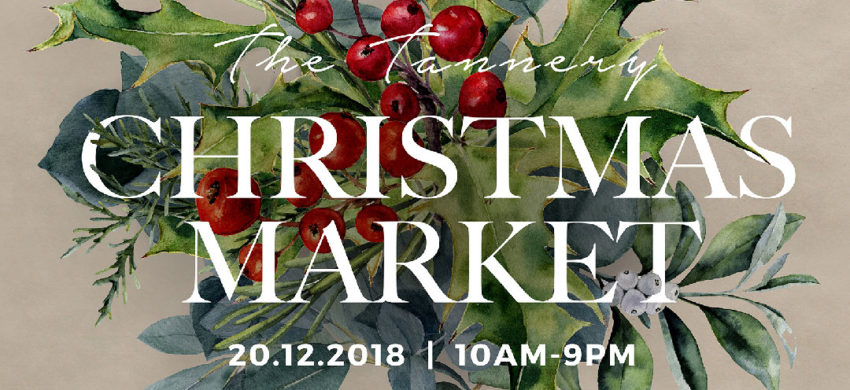 ---
Join us for The Tannery Christmas Market 2018, enjoy the Christmas festivities, finish off your Christmas shopping and grab yourself some bargains among our sale tables and store specials.
We will have live music, entertainment for the kids, food galore and some of your favourite local craftspeople and designers.
Live Music – 5-9pm
Melanie Poppins – 10-11.30am
Face painting with Stepf – 3-5pm
Take advantage of the sales and promotions on offer from our boutique retailers at The Tannery Christmas Market. Deals to be had across men's and women's fashion, children's wear, jewellery, bags and accessories, health, fabrics, books & homewares.
Joining us for the day in the atrium and Blue Smoke are:
– Gemini Project
– Bee Stitching
– Zippity Doo Dah
– Ruby and Bear
– The Gingerbread Company
– Sarah Geary Pottery
– RLS Designs
– Merlesque Jewellery
– Jet Black Design
– Pepin Design
– Sweet Ltd
– Magma Gallery
– Cassels and Sons Brewing Co
– Korukai Natural Herbal Products
– Vintage Black Soy Candles
– Back Road Soap
– Over the Ditch
– Kakariki Kitchen
– Casa Color
– Lemon and Sunshine
– Gwamma's Originals
– Yho Design
Plus some tasty food offerings from our regulars and joining us for the day:
– Fritzs Wieners
– Pita Pit
– Kung Fu Dumplings
– Indian Express
– American Delight
– The Brewery
– She Universe
– Penny Black Victorian Tea Room
– Pantry 59
– Bellbird Bakery
– Mitchelli's