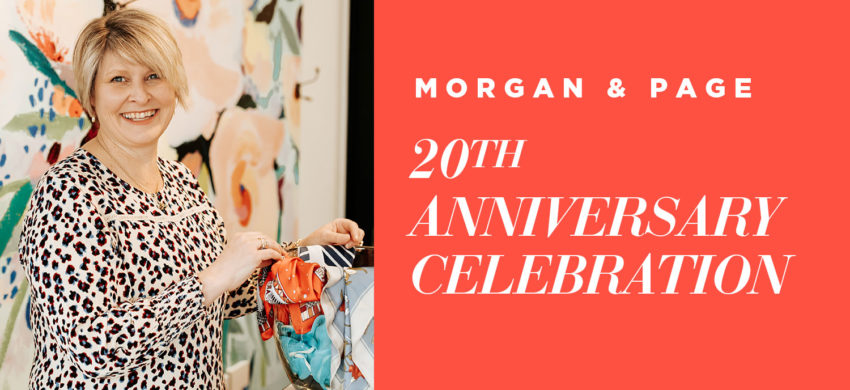 ---
March 3rd 2021 marks 20 years of business for Morgan and Page. It's a huge milestone and, as owner Ingrid Wylie shares, a journey that's been punctuated with challenges from juggling motherhood to the Christchurch earthquakes and more recently, COVID.
Reflecting on the past two decades, Ingrid's passion for the industry and determination to adapt shines through. Also clear is her well-deserved pride in achieving her dream – creating her own fashion label and building it into a staple of the Christchurch fashion scene.
Ingrid's journey began in childhood where she recalls an early affinity for fabric and clothing. "My grandmother was a wedding dress maker. She had a bridal studio on Litchfield Street and her home was always full of industrial sewing machines. My parents were self-employed and approached life with a creative, can-do attitude."
At high school Ingrid studied sewing and technology. Soon after graduation she began working as a rep for a textile company selling to designers, manufacturers and retailers. It was working here in 1995 that Ingrid saw a gap for quality, colourful linen shirts for men and women.
With access to materials and self-taught seamstress skills, Ingrid began making her own shirts under the label Morgan and Page.
Ingrid designed garments and sourced fabric, and found a cutter and machinist to help with the rest. "We ran it along the lines of a party plan," she says. 'My parents had a big, old villa in Auckland with lots of room, so I'd put on drinks and nibbles, invite people around and use the rooms as changing rooms!"
In 1999 Ingrid and her husband relocated to Christchurch. The following year their first child Reid was born. One afternoon while out walking Reid, Ingrid passed a vacant shop in Sumner. Acting on impulse, she contacted the agent and was soon signed up to a lease for $75 a week. On March 3rd 2001 she opened her doors for business.
Looking back, she shares the stress she felt at the time. "There were a number of times in that first year when I wondered what I'd taken on. I didn't have any contacts in Christchurch and all the challenges of a newborn on my hands! I'd cut the patterns at night and package them up in a banana box to send them to my machinist in Auckland. They'd get returned to me for finishing. Every morning I'd drive Riley over to home based care in New Brighton. I'd cry all the way there, and then all the way back to the store in Sumner."
In these early days Ingrid manufactured 100% of the garments stocked in Morgan and Page and sourced a selection of handbags and jewellery.
Just as she was starting to find her equilibrium, disaster struck. "Just before the 2011 earthquakes I'd taken the plunge and ordered my first big indent of stock from a brand called Noa Noa. The business was growing and I needed to diversify. No sooner had I placed the order than the February earthquake hit. My store in Sumner was red stickered, the city was in chaos and I had a significant investment in clothing that I had to sell. It took some thinking outside the box!"
Ingrid returned to her roots and resurrected the party plan origins of Morgan and Page. The stock was sent up to Auckland and sold through parties at her mum's house once again.
"Aucklanders were really keen to do whatever they could to help Cantabrians. They offered to distribute flyers, spread the word about my parties, and do basically anything they could. With their help we were able to sell all the stock. To this day we still stock Noa Noa at Morgan and Page, and I'm hugely grateful for loyalty they've shown us."
Never one to stop moving, Ingrid found a new store in Redcliffs Village and re-opened Morgan and Page. Their new location wasn't without its challenges. "We were told that the new New World Supermarket would be up and running within the year, but it took five," laughs Ingrid. 'We battled roadworks for months, and the relocation of Redcliffs school to van Ash hurt the community."
Despite the challenges, Ingrid continued to evolve the business and source new labels to stock such as Augustine, Fate and Becker and Sass. Over the years Ingrid has seen women's shopping choices change and, since COVID, has noticed a definite uptake in casual style.
Whilst running her Redcliffs store, Ingrid was eyeing up her next challenge; The Tannery.
"Initially I opened a pop-up at The Tannery to test the waters. It went well and I committed to a permanent store, while keeping the Recliffs store open. It was a bit of a juggle! Eventually I decided to close Redcliffs and move into a bigger site at The Tannery, which is where you'll find us today."
With such an eventful start-up journey under her belt, Ingrid is quick to share her hard won wisdom with others. What advice does she would have for new business owners?
"1. Persist. Always keep trying. 2 Ask questions, they're your best way to learn. 3. Remember that happy customers are key to the success of your business. Serve them accordingly! 4. Ask for help. I was burnt out after the earthquakes and reaching out for help was the best decision I could have made. 5. Follow your passion."
With her trademark bubbly smile, Ingrid shares her final words. "They have a saying in the industry –if you get in to the rag trade, you never get out."
Here's to you Ingrid, and to the next twenty years of Morgan and Page.